This week Nakivo Backup & Replication 9.3 has been released. There are a lot of cool features within Nakivo Backup & Replication, but one special new feature is support for Oracle RMAN. It's now possible to backup Oracle databases using Oracle RMAN. Within a few steps, your databases are protected now.
The installation is really straightforward. It is possible to install Nakivo Backup and Replication on Windows, Linux, virtual appliance (VMware and Hyper-V), on NAS devices as well, like QNAP, Synology, NETGEAR and even on a Raspberry Pi. You can find the list of supported devices and hardware here. Also the deployment requirements for Nakivo Backup and Replication.
Features of Nakivo Backup and Replication:
Oracle backup and restore – there is integration with Oracle RMAN to backup and restore your Oracle databases, using the native Oracle tools. You can schedule and automate your backups.
Backup to cloud – you can send backup copies directly to the cloud (AWS EC2 or Microsoft Azure)
Protect physical, virtual and cloud environments – support for AWS, VMware, Hyper-V, Office 365, Nutanix AHV cluster, physical machines (Windows and Linux)
P2V – backup physical machines and recover it to a virtual machine, like VMDK, VHD or VHDX.
Backup Office 365 mailboxes – backup user mailboxes and recover single items in the origional mailbox, or in a different mailbox
Cross-platform Recovery – export your virtual machine in the desired format and recover it on your hypervisor (VMware or Hyper-V)
Support for Windows Server 2019 – also support for Windows Server 2019, including Hyper-V Server and cluster environtments
Performance – creat performance optimizations like Advanced Bandwith Throtteling, Deduplication, LAN-Free Data Transfer, Network Acceleration using multiple transporter instances
Huge variety of integrations
Nakivo Backup and Replication offers a huge variety of application and platform integrations. ensuring that your critical data, applications and workloads are safe.
Conclusion:
Nakivo Backup and Replication is a really powerfull and easy to manage backup and recovery solution. The setup is easy, with a great performing webinterface/GUI. It supports a lot of different platforms and cloud environments. Hopefully support for Microsoft Azure workloads will come in the future, but at this moment it is not possible. Support for backup and restore Oracle databases is really powerfull!!
You can get Nakivo 15 days trial and you're up and running within 2 minutes.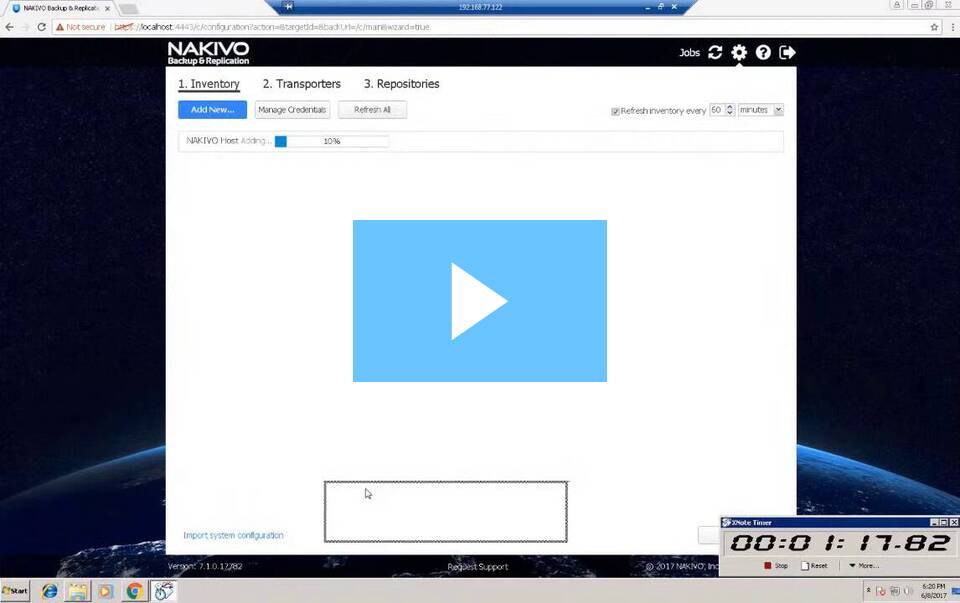 NAKIVO Backup & Replication – Installation, Configuration, and Backup